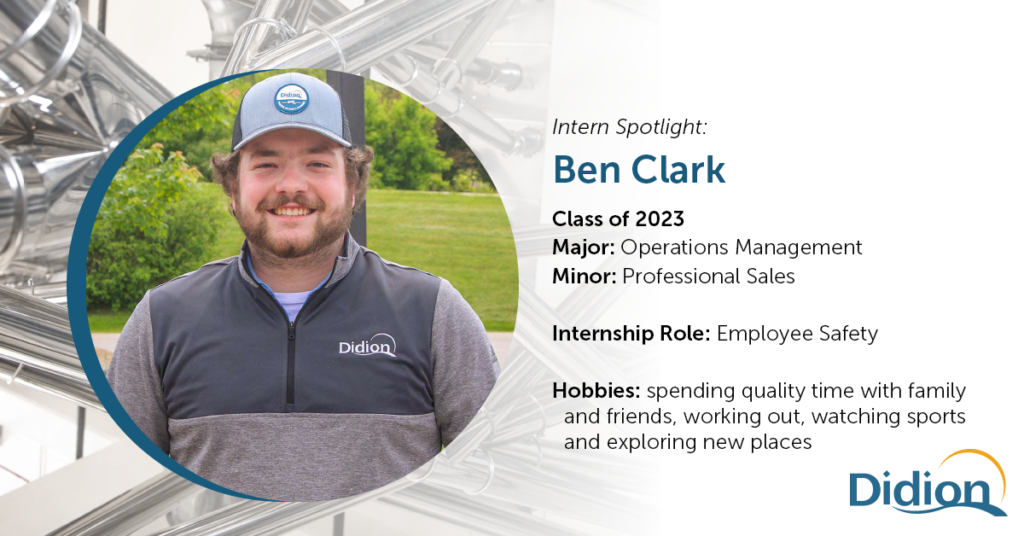 Name: Ben Clark
Title: Employee Safety Intern
University: University of Cincinnati
What drew you to intern with Didion?
This is my second-year as an intern with Didion. I was really interested in the position I was offered because it has a completely different focus than my internship in 2020. Last year, I worked in the day-to-day operations and this year I was offered an internship within the safety department. I have grown to love the work Didion does as a company and the people that make up the team. 
What impactful projects have you worked on/are you currently working on?
It's my job as an Employee Safety Intern to make sure I do everything I can to keep our team safe. This year, I have been working on implementing new management systems, specifically for the safety team. One of my main projects this summer is to helping coordinate the effort to design, locate, and construct "Safety Centers" in key locations around campus. 
What attracted you to the milling/manufacturing profession?
I came into my first internship year with the Didion without prior milling or manufacturing knowledge. I have loved being able to learn about the corn milling process and have become very fascinated with it. I think manufacturing is a very important field that requires a high amount of attention, and I am glad I found a profession that I have been able to invest into and grow from. 
What do you enjoy doing in your spare time?
In my spare time, I love enjoy spending time with family and friends. I like to workout at the gym and am very invested in many sports teams. One of my favorite things to do is to go to the city and venture around to find places that I have never been before!