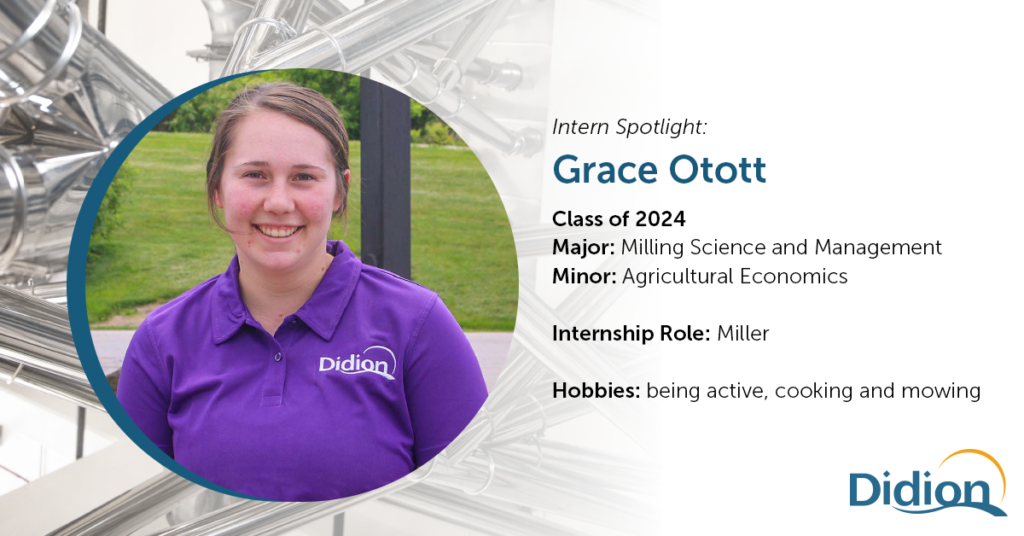 Name: Grace Otott
Title: Milling Intern
University: Kansas State University
What drew you to intern with Didion?
I attended the K-State Info Night Didion hosted on-campus and one of the biggest things that drew me to Didion was seeing how the team members spoke to the company's core values and emphasized that the people are their most important aspect. Also, knowing that I would be living with other students from K-State made me feel confident in joining the Didion team for the summer. 
What impactful projects have you worked on/are you currently working on?
My main focus is to optimize the purifiers in order to increase the amount of in-spec product. Along with this, I'm also working on a project to efficiently use waste. 
What attracted you to the milling/manufacturing profession?
When I was in high school, I attended nationals in the agronomy contest through FFA and I really enjoyed learning about the crops and seeing the impact it can have on our communities. My FFA advisor introduced me to the milling profession and encouraged me to explore other departments. While touring K-State, I was able to visit the Hal Ross Flour Mill and was intrigued by the process of going from a wheat kernel to flour and seeing the outcome and impact the work has. 
What do you enjoy doing in your spare time?
I love being active and participating in sports, whether that is playing or coaching.