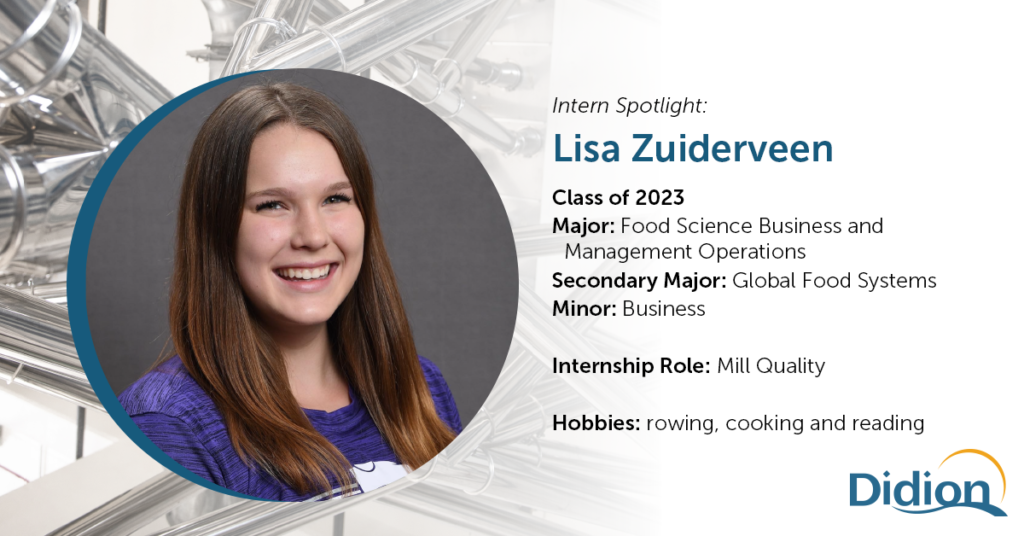 Name: Lisa Zuiderveen
Title: Mill Quality Intern
University: Kansas State University
What drew you to intern with Didion?
The leadership focus and the culture of Didion is what initially drew me in. But more than that, their partnership with USAID and USDA to address famine relief fell in line with my passion for food security. This passion stemmed from classes at K-State that teach about food insecurity, community service opportunities and my involvement in the Food Security Scholars program.  
What impactful projects have you worked on/are you currently working on?
Right now, I am working on two separate research projects regarding additional options for antimicrobial processing aids that will not negatively impact the overall processing. In addition to these projects, I have been assuring that product meets all quality standards and assisting in all areas of the quality department. I'm also gaining a thorough understanding of how interconnected quality and food safety is to every department within the organization. 
What attracted you to the milling/manufacturing profession?
My family has been involved in the food industry most of my life, so it is something I've always found interesting. I recently completed a Principles of Milling course, which solidified my interested in the milling profession. 
What do you enjoy doing in your spare time?
I am on the rowing team at K-State, so much of my time is spent in a gym of some sort. When I am not rowing, I like to volunteer, read, and cook.