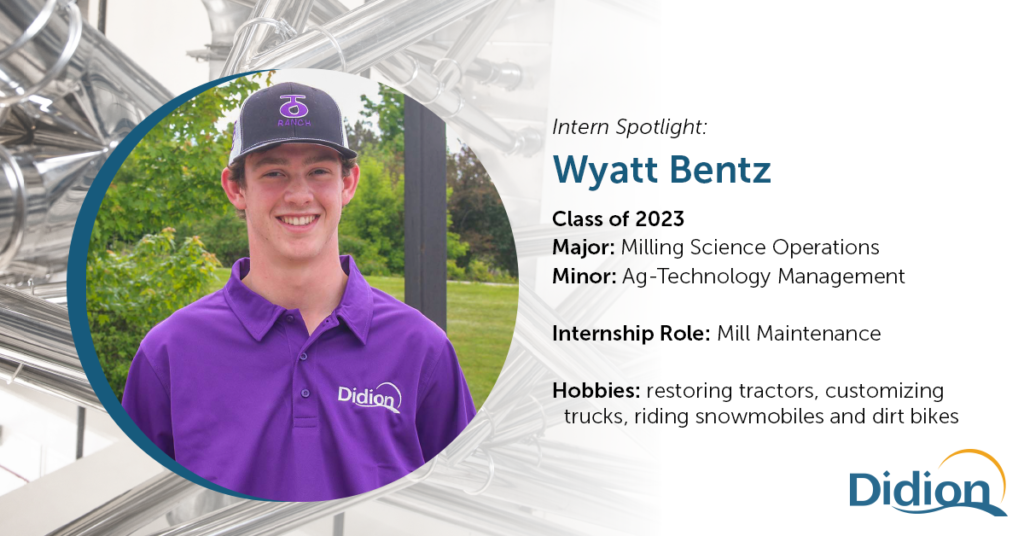 Name: Wyatt Bentz
Title: Mill Maintenance Intern
University: Kansas State University
What drew you to intern with Didion?
I attended the Info Night at K-State to learn about Didion and they seemed like a great company – family oriented, purchase corn from local farmers, and they care about their team. Going into the interview, the team was very easy to talk with and relate to and they made the interview fun. After I had dinner with the team following my interview, Didion was very high on my mind. 
What impactful projects have you worked on/are you currently working on?
My main project is maximizing efficiency of color sorters before harvest. My second project is updating Standard Work Instructions (SWIs) and Standard Operating Procedures (SOPs) for roll changes, so any team member can assist when help is needed. 
What attracted you to the milling/manufacturing profession?
I grew up on a farm, so I wanted to remain in the agricultural industry. The fact that milling is hands on and is a new focus to me, but still has a maintenance aspect to it drew me in.  
What do you enjoy doing in your spare time?
I started rodeo when I was about 4 or 5 up until college, which consumed a lot of my time. Now, I spend my spare time riding dirt bikes, snowmobiles, watching sports, and hanging out with friends.